The as-yet-to-be-renewed Heroes of Cosplay completed its initial run tonight with some spectacular fun and serious drama (guys, it's reality TV, there is drama.  Did you know you have nerves attached to your muscles?).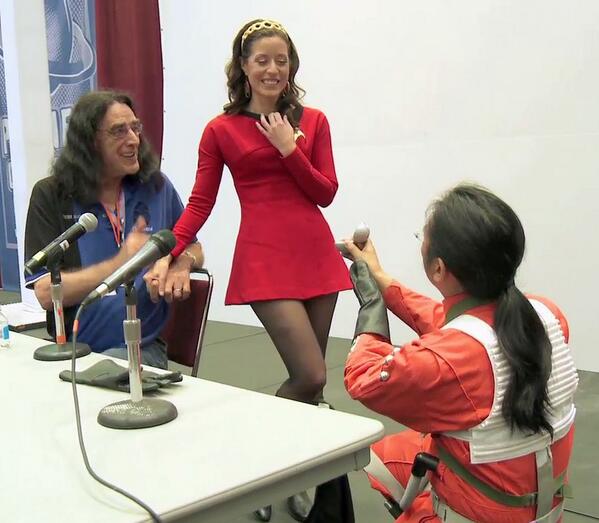 I HAVE NEVER SEEN SO MANY SICK PEOPLE AT A CON.  Stop that.  Even so, it's not hard to understand the motivation to work through an illness for something you've already put so much effort and time into.  Despite how you feel, you want to go through with it.  How many of us do that with our work or career?  It's a tough choice.  Admittedly… my illnesses in the past have come the next morning… *mumblemumbledragonconmumble*
One of the most lovely moments was Jinyo's proposal to Victoria.  So sweet, and the opportunity to have help from such a fantastic gentleman as Peter Mayhew (THE Chewbacca) simply can't be passed up.  Peter is also currently in need of medical care which his friends, family, and fans are helping to support via the website Standing In The Stars.
Unfortunately, a far more negative scene awaited us during the masquerade as the crowd jeered the "out-of-towners."  It is my understanding that there was some frustration with the show and management, but in my opinion, that is absolutely no reason to be heckling people, offering rudeness, or (even if you didn't start it, as I have heard is the case) continuing an argument.  What the hell was that?  Aren't we all adults?
Aside from that, "out-of-towners?"  REALLY?  It's a major convention that brought hundreds of thousands of people to Kansas City.  Conventions are DESIGNED to be attended by non-residents.  If there were only residents of that city attending THERE WOULDN'T BE A CONVENTION.  And heaven forbid there were only locals in the masquerade – it'd be five minutes long with two entries and no judges.
When you are costuming, you are there to do YOUR best.  If your best doesn't win you an award, keep going.  Learn.  Seek out new and better techniques, materials, keep creating and GROW.  But do not stand there and cry in your beer that you were "outclassed."  Every single one of those people started out with no skills; they worked for them and built them.  It is an extremely ungracious and disingenuous way to approach anything.
You didn't start it?  Good for you.  But you didn't leave it, either.  You participated in a meanspirited, abrasive heckling.  You were hungry, tired, and hurting?  So was everyone else in that masquerade.  No excuses.  Bullying and meanness is never okay.  Period.
Aside from that, it seems like it was a great experience for all the folks involved.  There was a lot of growing, learning, and the requisite struggle that is one of the things that makes anything – but especially cosplay – worth doing.
Looking forward to another season!